About
This wiki is about the cartoon TV series Oscar's Oasis. Before contributing you may need to read the Rules.
Oscar's Oasis follows the sun-baked adventures of Oscar, a lizard in the middle of the desert finding himself misadventures wherever he goes, from finding water to fleeing from a band of misfits. Along the way he will meet characters such as Popy, Buck, Harchi, Roco, and The Skunk.
Meet The Main Characters
Latest activity
Random Media
Article of the Month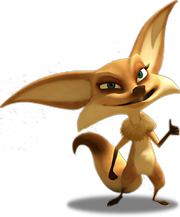 Popy
Popy is a Fennec Fox with sandy yellow coat of fur, with Emerald Green eyes, and brown tip at the end of her tail and dark brown paws. She is part of the Trio and serves as the boss of the trio, which also comprises of Buck and Harchi.
Affilated Wiki