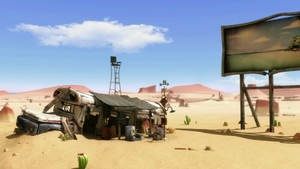 Popy, Harchi, and Buck's Home is a half submerged bus with various trash heaps surrounding it. It has a stand on the top as well. It has various chairs and tables as well decorating it.
Description
Edit
Is a broken bus which doesn't have wheels. There are some roofs outside the bus. The bus appeared in almost every episode. The bus didn't appear in some episodes.
It is unknown how or why the bus got broken. It might be possible the driver of the bus crashed and got seriously damaged.
It is also unknown why Popy, Harchi and Buck live on the bus.
Ad blocker interference detected!
Wikia is a free-to-use site that makes money from advertising. We have a modified experience for viewers using ad blockers

Wikia is not accessible if you've made further modifications. Remove the custom ad blocker rule(s) and the page will load as expected.